Wildfires result in area restriction order for Point Creek in Northwest Mackenzie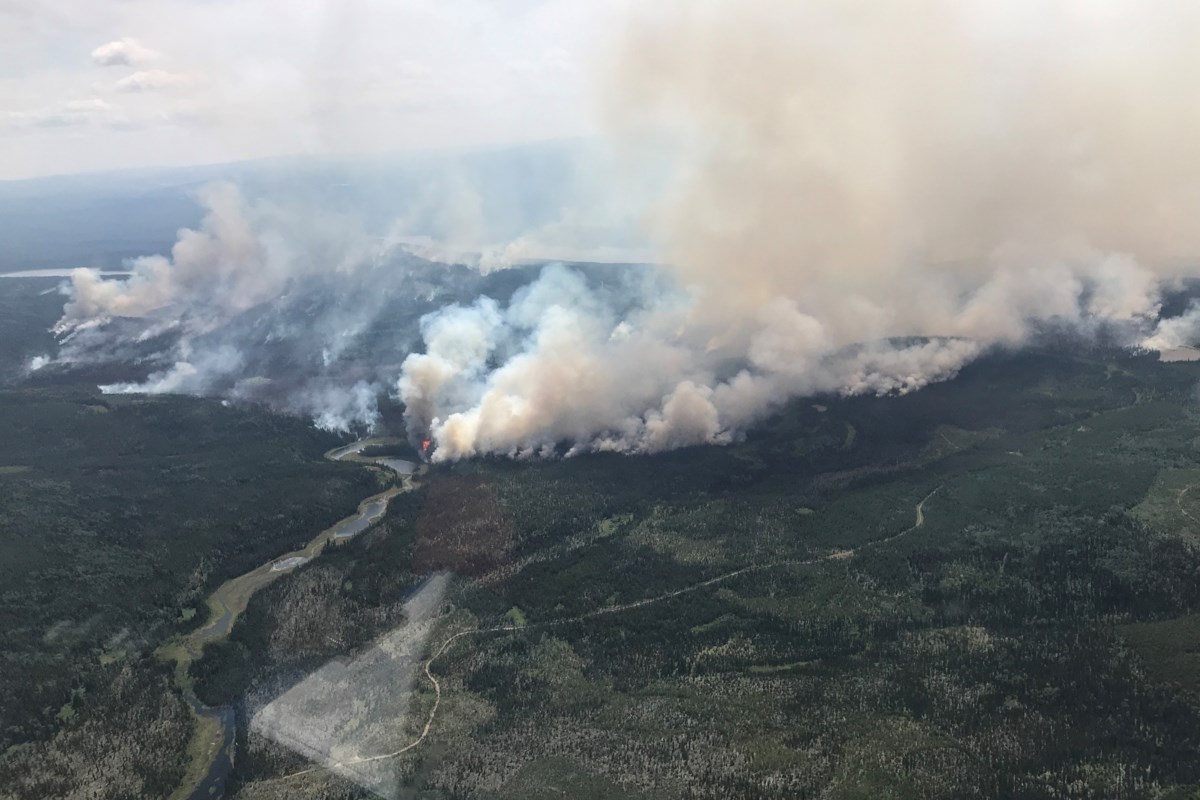 Cutoff Creek and Grizzly Lake fires continue to burn out of control south of Vanderhoof
An uncontrollable wildfire about 90 kilometers northwest of Mackenzie forced the BC Wildfire Service to issue an area restriction order.
The Point Creek fire, believed to have been caused by lightning on July 11, reached 63.40 hectares in an area south of the East Arm of Williston Lake, where it connects to Clearwater Creek.
The order, which will remain in effect until September 30, prohibits people from being in the area unless they have written permission from government authorities, unless the person is:
Travel to or from his residence;

The use of a motorway as defined in the Road law;

Travel or enter the area as a person acting in an official capacity; or

Travel through or enter the area for the approved purpose of supporting forest fire suppression activities.
Violators of the order are liable to a fine of $ 150.
There are five other small forest fires in the area which are burning uncontrollably without any fire extinguishing effort being carried out.
Two large fires continue to burn in sparsely populated areas of the Lake Williston area.
The Mount Porter fire, about 80 km northwest of Mackenzie, reached 6,345 ha and triggered an evacuation order includes Wolverine Lakes, Manson Lakes and the Omineca Mine Access Road, as well as the area northwest of Germansen Landing and southeast of Manson Creek.
Evacuees are asked to register in Prince George at the Super 8 Hotel, 1151 Commercial Cres., (Call Emergency Support Services at 250-562-4131) or in Fort St. James at the school Fort St. James secondary, 450 Douglas St. (call 1-250-617-9683).
Sixteen firefighters, three helicopters and five pieces of heavy equipment are used to fight the blaze.
The Klawi Lake fire, approximately 20 km south of the Mount Porter fire, is listed on the BC Wildfire Service interactive website over 6,231 ha. No equipment personnel are fighting this fire.
The Cutoff Creek fire southwest of Vanderhoof remains the largest forest fire in the Prince George area and now covers 23,310 ha of forest. For perspective, one hectare is roughly the size of the indoor area of ​​the 400-meter athletic track at Masich Place Stadium.
An evacuation order remains in effect covering the area south of the intersection of Kenny Dam Road and Brophy Road, southwest to Knewstubb Lake and southeast to 600 FSR, including Saik ' uz IR Tatuk Lake 7, Tatuk and Finger FSR as well as the area west of the Nechako River including the West Kenney Dam Road to the Corkscrew RSF and Sinkut Road. The order does not include Kenney Dam Road where it runs along the Nechako River.
The 4,600 ha Grizzly Lake fire is the closest major fire to Prince George, about 40 km southwest of the city. An evacuation order is in effect, which applies to the area southeast of Highways 900 and 800, including Naltesby Lake and Little Bobtail Lake, southeast of Bobtail Connector and Bobtail FSR until at routes 900 and 800 and in the Cariboo district in Tietown and North Nazko Areas.
Twelve firefighters, five helicopters and 17 pieces of heavy equipment are on scene at Grizzly Lake.
The Tentfire Creek fire southwest of Tumbler Ridge continues to burn uncontrollably over 1,700 ha. Nine firefighters, a helicopter and eight pieces of heavy equipment are used to attack this blaze.
The Chief Louie Lake Fire covers 18,338 ha of woodland and is located southwest of Burns Lake, approximately 20 km south of Ootsa Lake. The Purdy Lake fire, approximately 90 km south of Vanderhoof, covers 7600 ha. Twelve firefighters, a helicopter and 16 pieces of heavy equipment are involved in the suppression efforts.
West of Fort St. James, about 50 km from town, the Camsell Lake Fire is listed over 310 ha.