As the world turned to the fashion show that became the Met Gala red carpet, the United States Supreme Court was quietly hosting its own forum. According to documents acquired by Politico, the Court wrote an opinion to quash Roe v. Wade, the landmark case that sets the precedent to allow legal abortions nationwide. As women, as people, as equal rights supporters and protesters, millions of people across the country are horrified. The irony is that while being admired on the gilded steps of the Metropolitan Museum of Art, women were also silently stripped of their bodily rights. The fight to be seen as more than a beautiful statue to own and admire seems long, but the actions speak volumes. Here are four ways the art world is stepping up to support women's rights to make their own body choices, and a handful of artists who have long stood up for the cause.
Arts Organizations Supporting Abortion Funds
SheDecides: the arts for the right to abortion
SheDecides is a non-profit organization that helps women and girls find lifelong bodily and mental autonomy under the manifesto: "A world where every girl and every woman can decide what to do with her body, his life and his future. No question." SheDecides organizes events around the world to raise funds for access to abortion, as well as global awareness of the need for comprehensive women's health care for all.
Project for empty space
Project for Empty Space is a nonprofit arts organization dedicated to creating safe and equitable spaces for social discourse. Committed to cultivating conversations around important social issues through the lens of contemporary art and intersectional frameworks, its mission is to "support artists whose work is focused on social impact and activism; and to initiate conversations that address issues of marginality, intersectionality, and paradigmatic cultural shifts. Through its feminist incubator program, the organization helps female artists address issues of female safety, gender roles, ownership and agency. Current artists in residence are Niama Safia Sandy, Noelle Lorraine Williams, Tatjana Lightbourn and Yeimy Gamez Castillo.
Avenue 50 Studio
Located in Los Angeles, Avenue 50 Studio is a non-profit art gallery that focuses on promoting Latin art. On May 21, the gallery will open an exhibition on the struggle for reproductive freedoms and the right to choose.
thank god for abortion
Artist and activist Viva Ruiz's ongoing performance project, Thank God For Abortion, (2015–), celebrates agency in the pro-choice movement. In 2018, Ruiz combined the relationship between abortion access and gay rights for the New York City Pride March, highlighting the latest and greatest sculptural and performative iteration of the project. The project is committed to encouraging open conversations about bodily rights through rallies, fundraisers and other events.
Artists supporting abortion rights
Laurie Simmons, Sandy Tait, Marilyn Minter, Rebecca Jampol, Jasmine Wohi and Gina Nanni
In 2020, artists Marilyn Minter, Laurie Simmons, Sandy Tait, Rebecca Jampol, Jasmine Wohi and Gina Nanni teamed up to create an exhibition titled "Abortion is Normal" with the Cultural Super PAC Downtown for Democracy, where more than 50 contemporary artists have come together to present work that reflects their personal feelings on abortion and reproductive rights. Minter presented her work CUNTROL (2020) while Simmons presented photographic work from 1976 from her series featuring dolls, which she uses to explore issues related to gender and sexuality.
Alicia Eggert
In early 2022, Alicia Eggert's neon text OURs made the rounds in US states where abortion rights are most at risk. Organized by Planned Parenthood, the month-long expo put pressure on lawmakers and raised awareness of efforts to restrict abortion rights.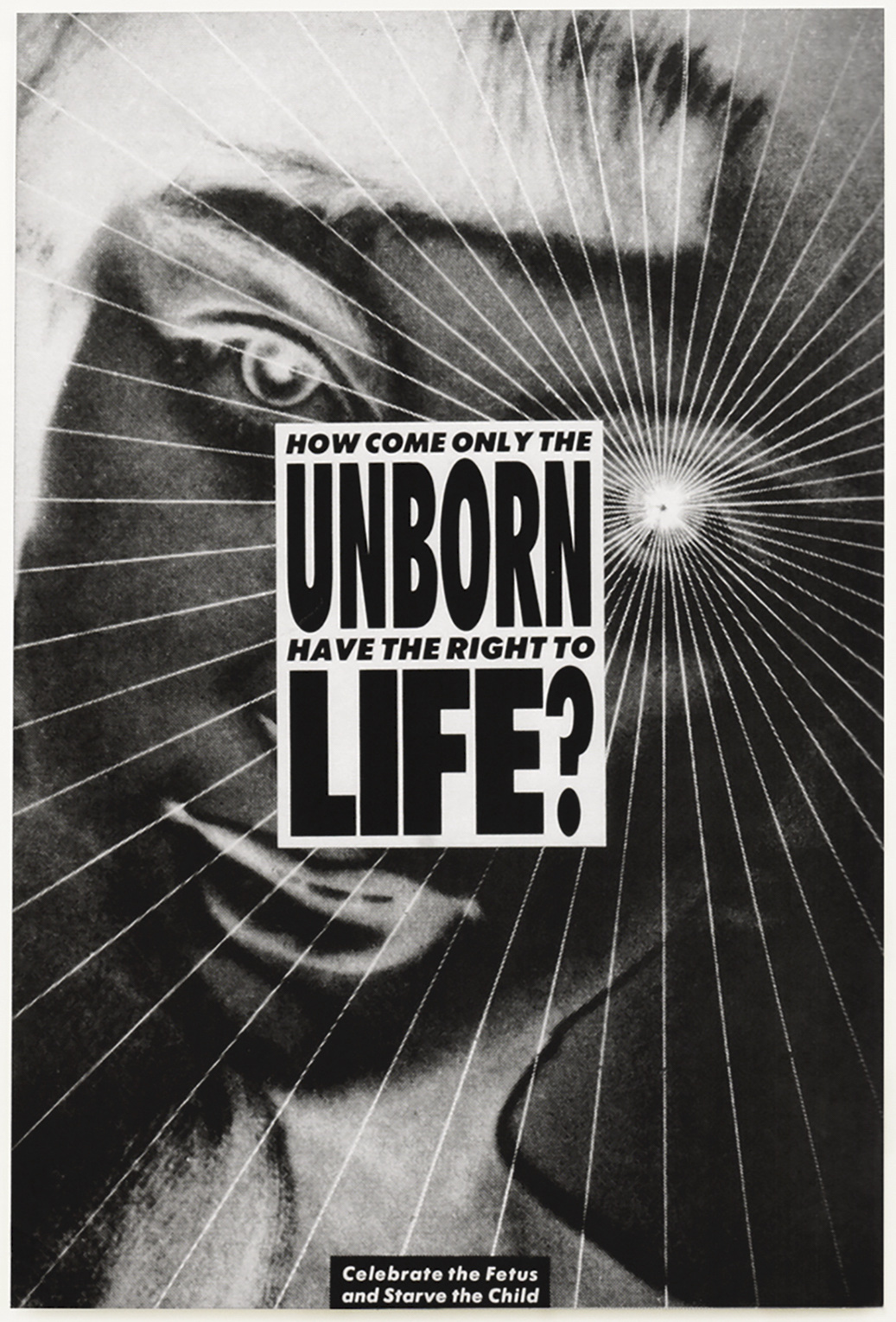 Barbara Kruger
Artist Barbara Kruger is a long-time advocate for women's rights and women's reproductive rights. In his current solo exhibition at Sprüth Magers in Los Angeles, iconic works like Untitled (How come only unborn children have the right to life?)1986 and Untitled (never perfect)2020 are on display, proving that generations of artists are still asking the same questions to legislators.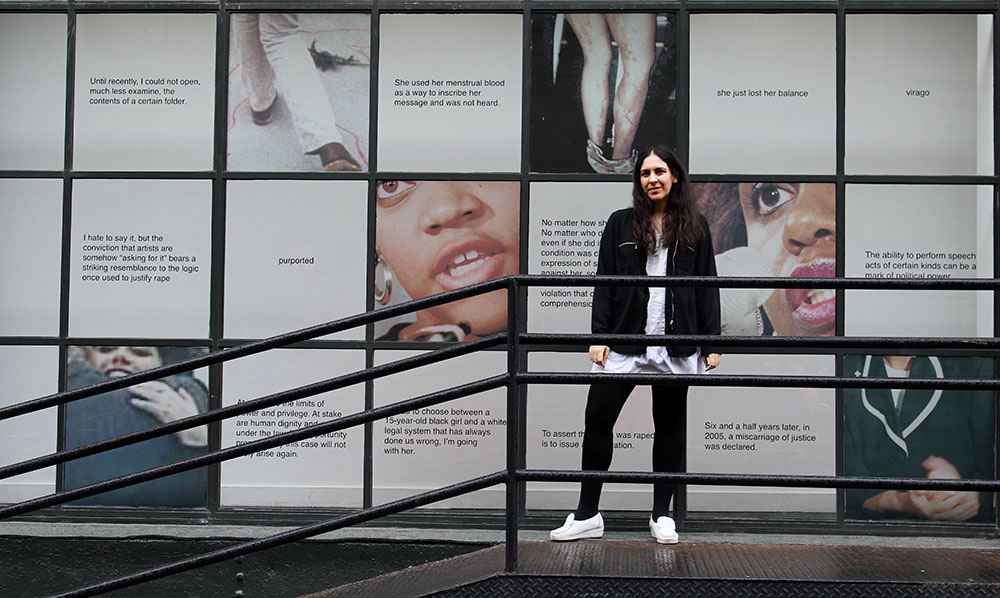 Aliza Chvarts
Shvarts' performance, video, installation and textual practice explore reproductive labor and its biological and societal maintenance through queer and feminist understandings. Her 2020 exhibit "Purported" drew national attention for using menstrual blood in her work, as well as using cropped footage of Anita Hill while testifying against Judge Clarence Thomas for the sexually harassed.
Non-arts organizations to donate to in states facing hostile and immediate implications
Alabama: Yellowhammer Fund, Access Reproductive Care-Southeast
Arkansas: Arkansas Abortion Support Network
Arizona: Arizona Abortion Fund, Tuscon Abortion Support Collective
Florida: Accessing Reproductive Care – Southeast
Georgia: Accessing Reproductive Care – Southeast
Idaho: Northwest Abortion Access Fund
Indiana: All-Options Hoosier Abortion Fund
Iowa: Iowa Abortion Access Fund
Kentucky: Kentucky Health Justice Network, A Fund, Inc.
Louisiana: New Orleans Abortion Fund
Michigan: Fountain Street Church Choice Fund, Reclaim MI WIN Fund
Mississippi: Mississippi Reproductive Freedom Fund, Access Reproductive Care-Southeast
Missouri: Missouri Abortion Fund
Montana: Susan Wickland Fund
Nebraska: Abortion Access Fund
North Dakota: Abortion Access Fund for Women in Need of North Dakota
Ohio: Premature Access Fund, Women Have Options – Ohio
Oklahoma: Roe Fund
South Carolina: Carolina Abortion Fund, Access Reproductive Care-Southeast
South Dakota: Access to South Dakota for Every Woman
Tennessee: Tennessee Abortion Care, Access to Reproductive Care-Southeast
Texas: Fund Texas Choice, West Fund, Texas Equal Access Fund, Stigma Relief Fund, Clinic Access Support Network, Lilith Fund, SYS (Support your Sistah), The Bridge Collective, Jane's Due Process
Utah: Utah Abortion Fund
West Virginia: West Virginia Free Choice Fund, Holler Health Justice
Wisconsin: Women's Medical Fund
Wyoming: Chelsea Fund
Subscribe to the Cultural newsletter
Of course, we can be close friends. Unfiltered access awaits.