Sturgeon catches record holder – Prince George Citizen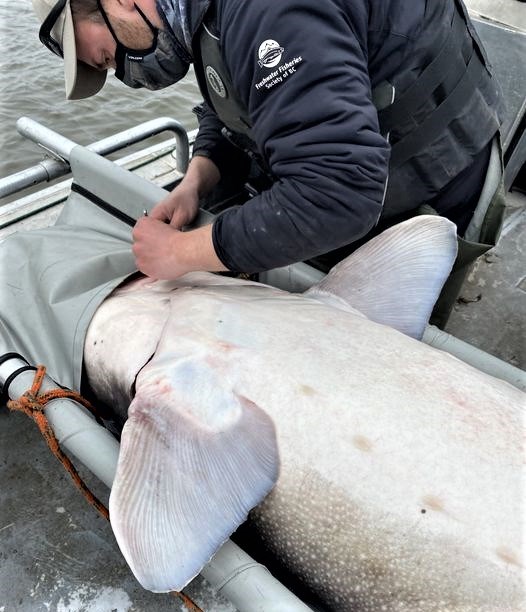 It's a huge fish story.
A sturgeon weighing 335.9 pounds (152.2 kilograms) was recently captured by a staff member from the Nechako White Sturgeon Conservation Center (NWSCC).
The female sturgeon, the largest ever captured by the center, will be spawned later this year at the Vanderhoof Conservation Facility.
Sturgeon live in rivers and lakes in British Columbia and are among the largest and oldest freshwater fish in the world. They are known to stand up to 18 feet (5.5 meters) and weigh up to 4,400 pounds (2,000 kg). Their lifespan is on average 50 to 60 years and some have lived up to 100 years.
The NWSCC is sponsoring a contest to name its latest big catch. Visit the @NWSRI centre's Facebook page to participate. The deadline for submissions is next Thursday.
The conservation center announced Friday that its annual juvenile sturgeon release will be closed to the public this year. In previous years, area students had the opportunity to individually name the spawned sturgeon and participate in their release to the Nechako River at an event in Vanderhoof.
This year, the release into the Nechako River and Fraser Lake will be a virtual event, which will still allow students to name the two-year-old sturgeon and learn more about its behavior and characteristics through educational kits and the material online. Each of the 200 juvenile sturgeons will be tagged with a number to allow easy identification if caught later. Fifty of the spawned fish will have radio tags attached for tracking using radio telemetry, while 20 will have acoustic tags that facilitate remote tracking.
Sturgeons are considered an endangered species and the center works to bring them back to a healthy population while conducting research on them.